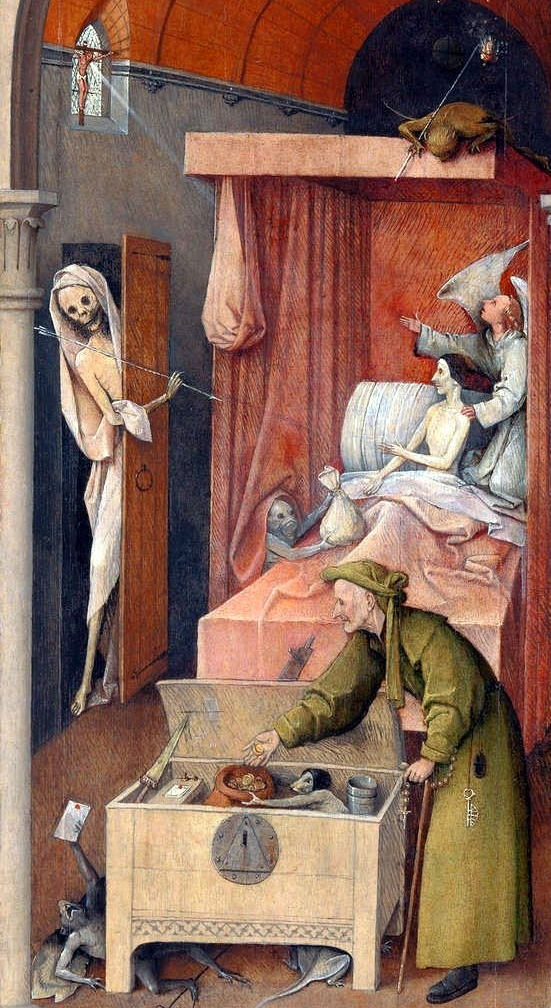 (Hieronymus Bosch, eigentlich Jheronimus van Aken, 's-Hertogenbosch um 1450 – 1516,
Der Tod und der Geizhals – Death and the Miser (1500 – 10), National Gallery of Art, Washington DC, USA)
Of all fifteenth-century artists, Hieronymus Bosch is the most mysterious. His puzzling, sometimes bizarre imagery has prompted a number of false assertions that he was, for example, the member of a heretical sect, a sexual libertine, or a forerunner of the surrealists. What can be said is that he was a moralist, profoundly pessimistic about man's inevitable descent into sin and damnation.
In this slender panel, probably a wing from a larger altarpiece, a dying man seems torn between salvation and his own avarice. At the foot of the bed a younger man, possibly the miser at an earlier age, hypocritically throws coins into a chest with one hand as he fingers a rosary with the other. In his last hour, with death literally at the door, the miser still hesitates; will he reach for the demon's bag of gold or will he follow the angel's gesture and direct his final thoughts to the crucifix in the window?
Avarice was one of the seven deadly sins and among the final temptations described in the Ars moriendi (Art of Dying), a religious treatise probably written about 1400 and later popularized in printed books. Bosch's painting is similar to illustrations in these books, but his introduction of ambiguity and suspense is unique.
This panel is thinly painted. In several areas it is possible to see in the underdrawing where Bosch changed his mind about the composition. His thin paint and unblended brushstrokes differ markedly from the enamellike polish of other works in this gallery.
Source: National Gallery of Art